It's your worst nightmare. You thought you and the defendant were on the same page. That is, until you saw the settlement agreement. Taking a closer look, you realize you missed a very important block of language. That's right. Language that releases the defendant from all liability, even if what they report to Medicare about your client is incorrect. Certainly this is not good. Incorrect information of any kind is a setback, but the worst would be incorrect ICD-9 or ICD-10 codes. And not those that are the subject of their settlement. Specifically, the kind that correspond with your client's preexisting conditions. That kind of error could trash your client's future Medicare benefits. It may be too late now for your past cases. But, how can you stop this in the future?
Something's got to change. However, defendants and their insurance companies aren't likely to be that something. Especially, if past behavior is any indication. Who can forget their reactions after the Section 111 Medicare Secondary Payer law update? The updated section states that the "responsible reporting entity" (aka: the defendant or the self-insured), which does not report a Medicare-eligible beneficiary's liability settlement to Medicare is subject to $1,000 per day, per claimant penalty. When this came out, defendants grossly over-reacted. Telling you that Medicare Set-Aside Arrangements (MSAs) were required in liability cases. Also, that they wouldn't settle your case until they had proof that Centers for Medicare and Medicaid Services (CMS) had approved an MSA. Not true. And how did they even get all of that out of the updated Section 111 law? Furthermore, how can you trust them now?
You Can't Trust Defendants
A recent case of ours out of Orlando proves that you can't. As you know, defendants want a lot of release language. They want your client to indemnify them. Hold them harmless. Even defend them from Medicare. Worse yet, they'll do anything to get what they want. That includes hiding critical language in the middle paragraph of a settlement agreement. As they did in this case. That hidden language is what you see below in red:
---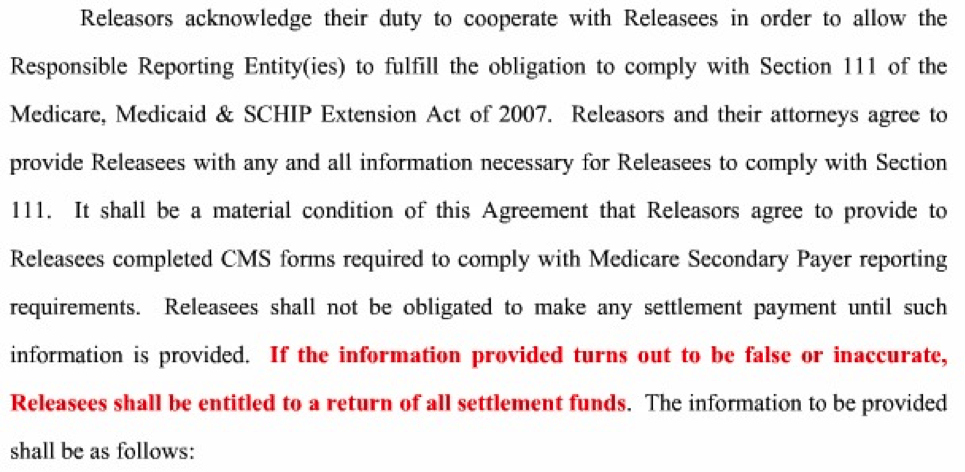 ---
Frightening right? We caught this language upon document review and showed it to the plaintiff attorneys. They were outraged. Then, we managed to remove it from the settlement agreement and replace it with language of our own. Before it was too late. You, however, might not be so lucky. So what can you do about this? First, enlist the help of the expert team at The PLAINTIFF'S MSA AND LIEN SOLUTION. Secondly, use our recommended "Plaintiff Liability Medicare Set-Aside Defendant Release Language" template. Why?
Plaintiffs Need Their Own Language
Plaintiffs should want their own language in the settlement agreement. In fact, that is exactly what this is and why you need it for your Medicare-eligible beneficiary. First, we'll do an MSA analysis on your client's future Medicare-allowable expenses. Next, we'll minimize it to the greatest extent possible. Then, we'll give you our proprietary language to insert into the settlement agreement. This language acknowledges the defendant/self-insured's duty to report. Not only that, it also holds them to a report of only the ICD-9's/10's and prescription drugs that we've identified. Problem solved.
What you don't know about MSA pitfalls can damage your client's future Medicare benefits. Let us help you avoid them.  The PLAINTIFF'S MSA AND LIEN SOLUTION is here for you. Please visit our website at www.plaintiffsmsa.com or call us with any questions at 888-672-7583.